Marcie Bombelyn
Sr. Recruiter for TECHEAD
Marcie Bombelyn is a Sr. Recruiter for TECHEAD, where she is experienced in recruiting for professional, federal and IT positions.
How long have you worked at TECHEAD?
I joined TECHEAD in November.
What led you to work at TECHEAD?
I have followed TECHEAD for years and trusted their staffing model and leadership.  I was looking to join an established, ethical and progressive organization.   TECHEAD has those qualities.
Tell us what about your best day at TECHEAD, so far.
Every day has presented me new opportunities to learn and successfully provide a prosperous career path.
Describe TECHEAD in 3 words.
Ethical, Progressive, Trustworthy
Tell us about where you live, and how your home workplace is set up.
I enjoy living near Tampa, Florida.  My home office is a dedicated workspace fully equipped with the best technology available to be productive.
What is keeping you productive and motivated while working remotely?
The key for me is to stay focused and keep striving for results to help candidates experience a positive outcome with their careers.  Treating each day with discipline and allowing for a work life balance while working from home.
What are your favorite hobbies or pastimes?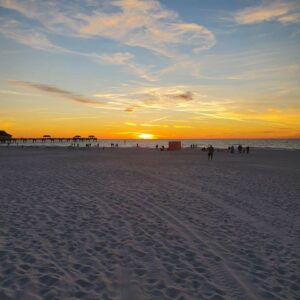 My happy place is walking the gorgeous beaches and parks in Florida and catching a sunset.  Also having the luxury of enjoying water aerobics and bike riding year-round.
Anything else you want to add, such as:
As the opportunity to work remotely progresses, my goal will be to enjoy adventures in South Carolina and Virginia to enjoy family and friends.  The perks of technology and the culture at TECHEAD provides the best of both worlds and allows for a great "work life balance."
Get In Touch With Us Today