Katherine Boller
Internal Digital Coordinator, TECHEAD 
Katherine Boller is TECHEAD's Internal Digital Coordinator. She is responsible for managing and posting to TECHEAD's Facebook, Instagram, and Twitter pages.
How long have you worked at TECHEAD and what do you like most about working here?
I just started at TECHEAD in April and love how warm and receptive the team has been! My favorite thing is the community: even though we're online and work our own schedules, I still feel the love and support from my team.
What led you to work at TECHEAD?
I had been paired with Kim Oliver, a recruiter at TECHEAD, for the past year. Kim thought that I would be a great fit for the internal social media position that opened up within TECHEAD … and the rest is history!

Tell us how TECHEAD is adapting and what your biggest challenges are right now. Any surprise positives that have happened, as a result of adapting to the changes?
I wasn't a part of the team before Covid-19, but in general, a surprising positive is that I'm able to schedule more meetings at more convenient times because I don't have any travel time. Something I'm struggling with is finding the motivation and the will to sit down in my own home to do work for long periods of time, especially with distractions like friends and family being nearby.
Tell us about your home workplace set up.
I am still in school and live with roommates. My home workplace consists of a desk in the corner of my room, where I attend all my classes and complete all my work. This results in me doing work all over the place (at my desk, on my bed, on my floor, you name it).
What is keeping you productive and innovative in your remote work-from-home life right now?
Meal Prep!!! I got into a really bad habit of either spending a bunch of time and money figuring out what to order to eat, or wasting time debating what to cook for lunch. Now that I have a bunch of food already prepared, I can just pick and pair what I want, throw it in the microwave, and I'm done!
What advice would you give to anyone looking for a job right now?
Don't be afraid to apply for positioned that you may think are "out of your league." Especially young professionals: You are so much more qualified than you think and should fight for any opportunity you want.
What advice would you give to an employer trying to navigate the hiring process in 2021? 
Everyone is itching to get back to work. You're going to run into a lot of people who offer a lot of different skills, which can be overwhelming. Take a step back to really look into not only who would be best for you, but who you would want to work with.
During the pandemic, did you pick up any new hobbies or pastimes?  
I have always been into fitness, especially powerlifting and pushing my body. During the pandemic I picked up rock climbing and paddle boarding to try out new heights and new experiences. I absolutely fell in love with the sports! Now, you can always find me at Triangle Rock Club trying to reach the top of those 50-foot walls or paddling down the James River!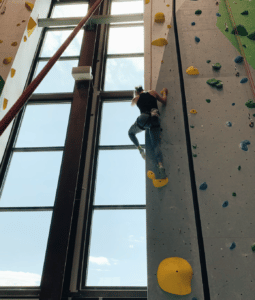 Anything else you want to add, such as:
I recommend reading "Her Body and Other Parties" by Carmen Maria Machado. It's an awesome collection of feminist and queer short stories. Every story has a very suspenseful, dystopian, suspenseful (almost horror) tone. I've read it so much that the pages have started falling out the spine!
Get In Touch With Us Today