Laura Vannoy-Dally
Business Development Manager , TECHEAD 
Laura Vannoy-Dally is Business Development Manager at Techead. She is responsible for bringing in new clients and working with current clients to ensure Techead continues to deliver quality candidates to them.
How long have you worked at TECHEAD and what do you like most about working here?
I have worked here about 6 months now. I love everything about Techead. The team/people are some of the best I have ever worked with. They, along with the owners, truly care about helping clients AND candidates. Everyone goes above and beyond and works super hard to ensure quality to all.
What led you to work at TECHEAD?
I was laid off from another company due to COVID, in an industry I had been in for 5 years. I had known our VP, Aaron Snead, from years back, so I reached out for some advice on which direction to go in and to ask for pointers in my search. I ended up chatting with him about maybe joining on with Techead and was so impressed by the company, the owners, and the team that I felt it was meant to be!

Tell us how TECHEAD is adapting and what your biggest challenges are right now. Any surprise positives that have happened, as a result of adapting to the changes?
I joined on with Techead in the middle of COVID, so we were already fully remote. While I do miss seeing the coworkers and the interaction with clients, being home has given me a tremendous amount of flexibility and more time to see my kids during the day!
Tell us about your home workplace set up.
My desk happens to be in the corner of our master bedroom, a solid five feet from my bed; the commute to work is excellent!  I have a desk set up that allows me to sit or stand, and I have my own little corner nook with my bulletin board and white board to help keep me organized!
What is keeping you productive and innovative in your remote work-from-home life right now?
Little breaks help me stay focused and productive. I work more on the client side of things, so my motivation comes from being able to assist my clients and make their jobs easier. In my mind, the more we help the clients find candidates for their positions, the more they have time to do their job and be more productive on their end!
What advice would you give to anyone looking for a job right now?
Get up every day and just take it one day at a time. Reach out to recruiting firms like ours and ask for assistance; let them know you are on the market! Make sure you create a resume that looks clean and reads well and caters to each job you are applying to. Take the time to format your resume neatly – THAT is your first impression to a potential hiring manager. If they don't like your resume, you won't even get a shot to chat with them.
What advice would you give to an employer trying to navigate the hiring process in 2021? 
Things are crazy right now. With more and more jobs opening as remote possibilities, it's an ever-changing market. Let us help you navigate things!
How are you staying entertained during social distancing? Any new hobbies or pastimes?   
I stay plenty entertained by my 9-year-old son and my 3-year-old boy/girl twins. My oldest son is very involved in baseball and everything outdoors. My twins love to run around outside and ride their bikes, so we are constantly on the move!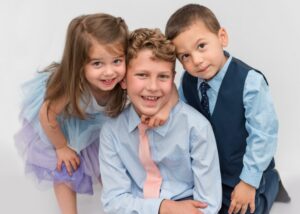 Any "dream" travels you're planning – or want to plan – once the pandemic is over
I want to get back to Italy to visit our friends out there. My husband and I got engaged at Lake Como and got to celebrate with a bunch of friends out there. We also got married in Las Vegas surrounded by family and friends, but didn't really get to "experience" Vegas while we were there, so we would love to go back!
Get In Touch With Us Today